Welcome/Donate/Union Meeting/Rolling Bypass Accuracy
Welcome
:
The men and women of the Wilmington Firefighters Association, thank you for visiting our website. Our members are a sworn group of dedicated individuals that have SERVED and PROTECTED the citizens and properties of our great City of Wilmington, Delaware, its surrounding areas and throughout the FIRST state for decades and with your support, for decades to come. Never forget the fact that some of our membsers have paid the ultimate price for this labor of love with HONOR, COURAGE and UNITY. Whether you live, work or are visiting the City of Wilmington we thank you and welcome your continual support, be it morally, politically and/or financially. All that we are we owe to those who went before us and to those to come.
DONATE:
Wilmington Firefighters Holiday Food Drive Fund
804 Maryland Ave.
Wilmington, Delaware 19805
Headline: YOU CAN ONLY DO MORE WITH THE RIGHT AMOUNT OF HELP (TEAMWORK); NOT LESS = DEAF!!! WATCH NOW!!!!
Thursday, May 10, 2012
Replacing Heavy Rescue With Lightweight Trailers
Pumpers will tow Rescue Trailers to the scene
(Heavy Rescues to be shut down)
by: Lou Angeli


Wilmington, DE (May 10, 2012) -- On January 1, 2011, the lone career Heavy Rescue in the State of Delaware was disbanded by the Wilmington (DE) Fire Department, and 17 jobs eliminated, in an effort to cut "tough times" spending. At that time, the technical rescue mission was handed over to 2 of the city's Engine Companies (Engine 1 and Engine 3), which were renamed Squads. During a rescue response, the Squad's 4-person crew would split up, with 2 firefighters staffing the Engine and 2 responding with a Heavy Rescue.
A few weeks ago, an arbitrator ruled that the City of Wilmington (through the Squad program) violated its contract with IAFF Local 1590 (Wilmington Firefighters) specifically a clause dealing with 4-person Minimum Staffing. The Fire Department was told that during emergency response 4 firefighters were to staff each apparatus.
In an effort to meet the arbitrator's demand, the Fire Administration has proposed purchasing three (3) 18 foot trailers, which would carry rescue and haz-mat equipment to incident scenes by towing them behind the existing Squad Pumpers (Squads 1 and 3) and the Haz-Mat pumper (Engine 6). The city says that such a change would allow the 4-person crew to remain together on a common apparatus, while at the same time carrying the tools needed for technical rescue.
Fire administration supports their decision saying that the use of pumper-trailers by fire suppression units is "a popular trend" among the nation's departments. It is true that the concept of using trailers for specialty equipment has been around for several years now, however the prime mover is not a pumper with a ball hitch, but rather a dedicated vehicle like a Ford F-550 or even a small 5th wheel tractor.
For the past few days, Wilmington's firefighters have been walking around their stations as if a huge question mark had been stamped on their foreheads. The decision is not popular among Wilmington's rank and file, and comments from fire officials nationally leave dozens of questions unanswered.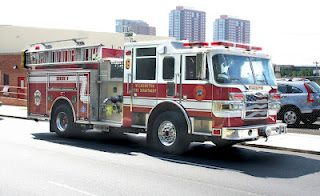 Pumper as Prime Mover?
The most common question among responders is whether Wilmington's Pierce pumpers were designed to pull 7 tons of trailer and equipment.
"You're going to have all sorts of mechanical issues with the proposed idea," says a Battalion Chief with the FDNY. "You need air assist breaks, a chassis and frame designed for towing, beefier suspension and tires to take the load."
An Illinois Fire Chief comments, "They'll need a trailer which is designed to carry several tons of equipment, one with heavy duty suspension and a sturdy frame."
According to a Pennsylvania manufacturer of lightweight trailers, "We build these for construction contractors and landscape companies." He adds, "They were never designed to serve in an emergency scenario."
The use of a lightweight trailer has practical drawbacks as well. There is no compartmentalization, interior shelving or ability to mount equipment to the walls. During a multi-faceted incident, a trailer with a 3 foot tongue leaves no room to safely access the business end of the pumper.
During a motor vehicle accident, rescue tools like the Jaws of Life, will not be pre installed as they are on Heavy Rescue units. The jaws, cutters, spreaders and power plant will need to be retrieved from the trailer, set up and tested, thus delaying the rescue operation. The inability to drop a supply line from a hydrant will limit the team's firefighting power to 500 gallons of water carried aboard the pumper's tank.
If you Google "fire pumper with trailer" http://tinyurl.com/8xs8qkc you won't find a single image of a fire pumper with a trailer. You will however find plenty of purpose-built trailers manufactured by companies, which specialize in fire-rescue equipment.
Incredibly, the most effective answer to this dilemma sits in one of the city's fire stations – an apparatus which the city already owns -- Rescue-1. Staff it and the city and fire department will be spared the consequences of operating a system, which has no track record.
Wilmington's answer: An apparatus which they own!
####
Rolling Bypass: Accuracy in Explaining a Controversial Public Safety Concept
Commentary
by: Lou Angeli

WILMINGTON, DE (March 3, 2011) -- As a resident of Wilmington, Delaware, I am served by one of the best-trained, most experienced fire departments in the nation. I support and have a deep respect for the staff and members, however I am neither a career firefighter nor member of Local 1590, the Wilmington Fire Fighter's Association.

I have written this commentary in response to the continuing confusion surrounding the Wilmington Fire Department's "Rolling Bypass Program," a cost cutting concept, which you may hear referred to as brownouts or blackouts, depending on where you live in the country. The program has cut overtime costs, however it wasn't enough to cover the predicted deficit, and on January 1, 2011, Delaware's only full-time, profesionally staffed Rescue Squad was closed - along with the loss of 17 jobs.

Rolling Bypass simply stated: O

ne of three Engine companies in the City of Wilmington is placed out of service each day on a rotating basis. Rolling Bypass has been in effect now in Wilmington for 18 months with little negative impact. However, the loss of an Engine company can have a devastating effect on the fireground operation -- and your life.
So let's take a moment now to review the WDEL story, which in its print version heralded the following headline:
"WDEL Exclusive: Wilmington Firefighters' Union Misleading City Residents?"
The reporter, Amy Cherry bases her headline on information that is available to every city resident through a pamphlet offered
by the firefighters' union. As a resident of a neighborhood, whose local Engine company is closed every 3rd day, I received the same information from Local 1590. And as a longtime writer of fire-rescue features, I must disagree with Ms. Cherry.
The information contained in the pamphlet is accurate and by no means misleads the general public.

First, a short background on the current make up of the Wilmington Fire Department and how Rolling Bypass is used.
This is the research part of the story that reporter Cherry failed to do.
The Wilmington Fire Department is made up of Engine Companies, Squads and Ladder Companies, along with Battalion shift commanders, all of whom answer to the Deputy Chief of Operations and the Fire Chief.
Companies respond on structure fires, nuisance blazes, automobile accidents, gas leaks, explosions, hazardous materials incidents and life threatening emergency medical calls. Why Medical? Well, if there's a report of a heart attack, chest pains, a stabbing or shooting, Wilmington Firefighters are trained and certified as EMT's, can respond quickly to initiate patient care.
As an example, let's consider a scenario in which a resident has suffered a Heart Attack somewhere in the city. As part of a multi-tiered response, the nearest Engine company is dispatched because each company carries an Automatic Defibrilator (AED), which is essential when dealing with cardiac patients. In a few minutes time, the nearest engine can be on scene, and perhaps restore the patient's heart rhythm, before County Paramedics, St Francis Basic Life Support and Wilmington Police arrive on scene.
And now for Citizen Firefighting 101 -- and there will be a test!
The Engine Company
The Engine Company is the heart of the firefighting operation. Why? Well, as old school firefighters would say, they put the wet stuff on the red stuff. Each engine is fitted with a large volume pump, water tank, foam, various sizes and lengths of hose and nozzles. Upon arriving at a fire, the engine company members secure a water supply (hydrant) – then prepare to make entry into the fire building to extinguish the blaze
The Ladder Company
The Ladder Truck serves as the base for the aerial ladder, and carries a full compliment of Ground Ladders. Onboard is a myriad of hand and power tools, which allow the crew to make quick entry into a burning structure. There's also power saws, chain saws, portable lighting equipment, generators, and ventilation fans, just to name a few.
The Engine and Ladder Companies work as a Team
When they arrive at the blaze, The Ladder Company's crew has a much different mission than the Engine crew. Members assigned to the Ladder are responsible for making entry into the building, conducting a search for victims, placing ladders against the building, venting the structure and finally overhaul – the search for hidden fire in walls, roofs and voids.
In order to be effective, the hoseline attack by the engine company must be coordinated with the ventilation effort by the ladder company's crew. That means that both units – each with very specific jobs -- need to be on the scene together in order to conduct a safe and proper fire attack.
Stations and Locations of Rolling Bypass Companies:
Engine-6 – which shares its quarters with Tower Ladder 2 at 3rd and Union Streets.

Squrt-4 – an Engine equipped with a water tower, which shares quarters with Ladder Company 1 on Tatnall Street near Concord Avenue.

Engine-5 – which operates alone. It serves as the first due company in high value sections of the city including Trolley Square, 40 Acres, Kentmere Parkway, Rockford Park and the Triangle Neighborhood. In addition, most of the city's elderly high rises are located in Engine 5' local alarm district.



How does Rolling Bypass impact a firefighting operation? Let's assume that today Engine 6 – 3rd and Union Street – is in bypass and unstaffed. Even so, the fire station remains open with Tower Ladder 2 staffed by a fire officer and three firefighters.

At 10am, companies are dispatched to a structure fire at a donut shop on Lancaster Ave at Cleveland Avenue in the far western section of the city. On a normal day, Engine 6 and Ladder Tower 2 would respond together, followed by additional engines and 2 battalion chiefs.

However, it's not a normal day at Station 6, and first-due Tower Ladder 2 leaves its station alone. There are three engines also on the roll, all of which are responding from distant stations. Traffic conditions and speed will determine how quickly they can arrive to assist the crew of the Tower Ladder.

Who's On First?

The Ladder Company arrives and the officer reports that a large section of the rear of the structure is burning with a vengeance. It's 10:02am, which will serve as the officially recorded arrival time. The crew hears sirens in the distance, but the fire ignores the whines and begins to consume the front of the store. But what course of action can the Ladder officer and his crew take? With no water or hoses, they can only await the arrival of the first engine company. (1)

At roughly the 5-minute mark, Engine Company 5 arrives from their station in the 40 Acres, closely followed by Squad 1, whose crew has responded from 2nd and West streets. Within a minute, 6 firefighters are in position and have begun an aggressive attack. Ladder company members are on the roof, using a chain saws, to create ventilation openings.

And here lies the confusion when different groups -- with vastly different interests -- interpret response data. In order to illustrate to citizens that Rolling Bypass doesn't affect day-to-day fire-rescue operations, city administrators use the 10:02am mark as the official time of arrival – a response of just 2 minutes. But the actual firefight didn't begin until 10:06am. That's a 4-minute difference in opinion, and for firefighters-- and the FIRE -- there is no firefight unless water is streaming from the nozzle of a hose.

The Wilmington Fire Department subscribes to standards and recommendations set by the National Fire Protection Association, a non-governmental watchdog agency, which monitors firefighting in the United States. One very important standard, NFPA 1710, deals with the operation of a career fire department, like Wilmington's. 1710 describes "arrival time" as the moment when "4 firefighters have assembled...with the capability of flowing 400 gallons of water per minute." At the donut shop, even though 4 firefighters arrived within 2 minutes, the pumping apparatus and its crew needed every bit of 6 minutes to make it to the blaze. Based on NFPA1710 which is the more accurate arrival time? 10:02 or 10:06am?


Ladder Company 1 - No pump, water, tank or hose.
And that's why I submit that WDEL's report is erroneous. In it, reporter Amy Cherry asks Local1590 president Kevin Turner if literature being distributed by Wilmington Firefighters is misleading – which in itself is a leading question.

Cherry quotes from the pamphlet, "YOUR Engine #6 at 224 North Union Street is closed," every three days. And as she stated, Cherry phoned Station 6 on a day when Engine-6 was out of service. She writes that if you call on a bypass day, "someone will answer the phone and respond to your fire -- it's just down a truck and some staff, so it's not really closed at all."
(see Engine and Ladder Company duties)

Amy, you're correct in stating that the station is not closed. However, there is no Engine – the water pumping apparatus -- operating from Station-6. The mission is to extinguish the fire, a tactic which a conventional ladder apparatus is unable to support. So, Station 6 is NOT down a truck -- it's down an Engine.

As city spokesman John Rago tells Cherry in the report "that part of the city (Engine 6's district) is covered by two other engines when the station is closed, and response time isn't affected."
That's cityspeak -- a way of manipulating statistics to support Rolling Bypass. But NFPA 1710 clearly spells out how the true arrival time is calculated.

Your commentary:

The given in this case is the comment in Local 1590's pamphlet, "YOUR Engine #6 at 224 North Union Street is closed (today)." There is no doubt about it, every three days Engine 6 is out of service. The information is in no way misleading and our scenario is not out of the ordinary as the donut shop has had smaller fires in the past.

I'd like my readers to respond to the following query. In your determination, which party is correct? City administration insisting that response times are not affected by Engine-6's closure? Or perhaps Amy Cherry, who phoned the firehouse only to find the crew of Tower Ladder 2 on duty?
The decision to initiate Rolling Bypass in Wilmington is understandable when you consider the state of city finances. But when it comes to protecting the public, bypasses and brownouts can have a devastating effect as the City of Philadelphia has unfortunately learned.
Mayor James Baker will soon give his 2011-2012 budget address, and it's a safe bet that the fire department -- already ravaged by cutbacks -- will be asked to make additional cuts. The most obvious would be to permanently shut down one of the Bypass Engines -- but which one? It's a tough decision - and I'd tender resignation before making that call. How do you tell an entire section of the city "you no longer need a pumper?"
Hope to hear from you soon.
(1) NFPA 1710 -- Standard for operating Career Departments